Be Patient, lots of pix to load!
No this has nothing to do with the movie, it's just that I couldn't resist the obvious connection. I'm talking about resin kits..."Phantoms"...just as fictional as the character on the left. A Phantom (at least by my definition) is a kit of a car or truck that cudda, shudda, or wudda been produced (had there been enough demand), but never was available at your local dealer.
What made me decide to add this page was a recent deluge of new resin kits recently offered for sale at eBay. About a third of them were phantoms, but not labeled as such, and close enough to cars that were actually produced that you could easily mistake them for production models. Sooo...consider this page as a guide for those of you who are into "Strictly Stock."
The model that started all this is the 62 Buick Special below. Cool, I thought, but something about it didn't seem quite right, so I started digging in my reference library to see what was bothering me about it. It turned out to be the "B" pillar, or rather the lack of it, that was nagging at me. There never was a 4 door hardtop built on this body shell which was shared by Olds as the F-85 and Pontiac's Tempest from 61 to 63.
On the other hand...
The wood trim on the 48 Chevy Fleetline fast back above (it's also available at eBay as a convertible), while not a production item, was available on all 2 door models from any dealer right off the showroom floor or as an after delivery add-on. I know the picture below is pretty small, but I've included it because the wood colors are pretty accurate in case you get the urge to build one. The car was never available in yellow.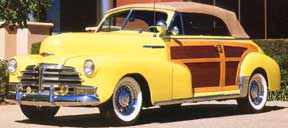 So, as you can see, the "Phantom Menace" can work both ways. I personally feel phantoms should be labeled as such, and some resin casters, F&F Resin Casting and Modelhaus, for example, do so, but most don't, and while the onus is usually on the modeler to research a project before they buy a model, there are times where that isn't possible. At a show for example, where we are all tempted to buy on impulse, and you may be hundreds of miles away from your reference materials or internet connection. The word "Phantom" on the label would provide you with information you're entitled to know as a buyer, enable you to ask the caster/seller pertinent questions, and certainly would prevent disappointment and buyers remorse. I think it would be good for the hobby.
Jerry