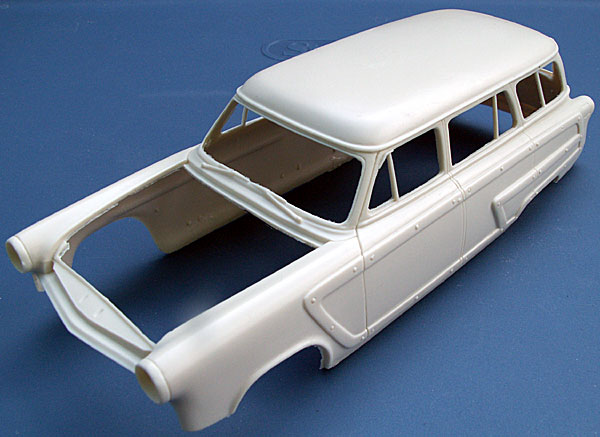 | | |
| --- | --- |
| | Your kit requires a Lindberg 53 Ford Victoria kit (not included) like the one shown at the left for many of the donor components and some scratch building will be required to finish the cargo area. If you don't already have one they are available at most hobby shops, craft stores like Hobby Lobby or at eBay where there are usually a dozen or two being auctioned off. |
Master Builder Paul Hettick took two of these bodies and turned them into the Masterpieces featured here. I'd like to mention that his models are more accurate representations of a 53 Squire than the Blue 1:1 featured atop the page. Paul's finished works are highly sought after and command premium prices. This one is finished in Fernmist Green and features a highly detailed and mostly scratch-built interior.
Be sure to check out the brochure scan of the interior at the very bottom of this page.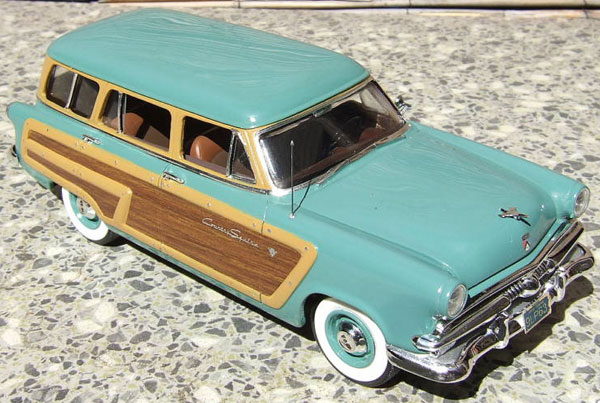 Your kit will have already received a 24 hour Bleche-Wite soaking and final detergent scrub & rinse and all the extraneous flash will have been removed. All that you have to do is the final sanding & fitting, prime and paint the the body the color of your choice!
The car on the left is what we get ...The car on the right is what you get :-)
All of our kits are delivered cleaned up like this.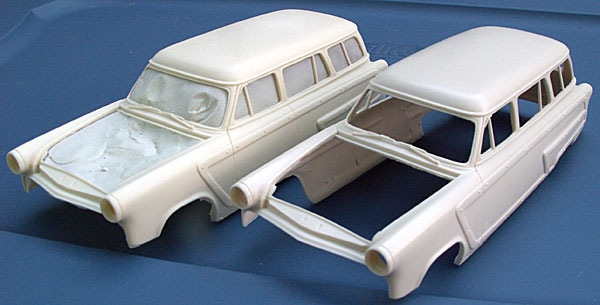 This is Paul's other beautifully finished Squire done accurately in Sandpiper Tan.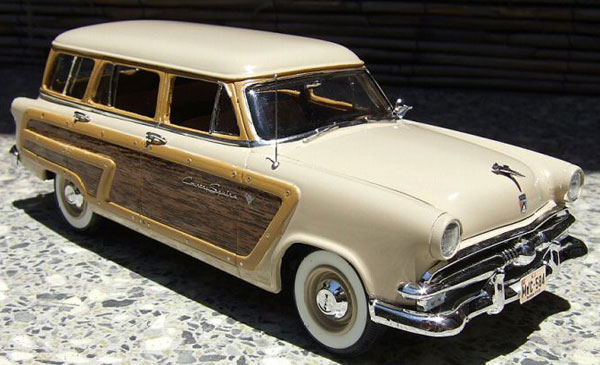 To show my appreciation for your business...

I'm enclosing a few goodies I think you'll find useful with each order...

So many of you have asked where I get the different sizes of sanding sticks I use to clean up my kits, I thought I'd enclose a set of the 3 sizes I find handiest with each order.

AND...because it seems like every time you need it, either you can't find it, you're out or it's all dried up, I'm enclosing a tube of the Crazy Glue I use.

This glue is great if you're like me and have a reaction to most brands of the stuff. I've got emphysema and bronchitis and this glue doesn't affect my breathing. The fumes don't bother my eyes either, a real bonus if you're eyes aren't what they used to be.
If you want to build a Mirror Windowed Promo style kit extra sheets of our Chrome Mylar sheet stock are only $1.00 each.
If you'd like to see what our customers think of us click HERE.

This offer is only good for residents of the United States. Your kit will come with a one (1oz) ounce bottle of Single Stage (no gloss coat needed) Air Brush Ready Acrylic Enamel. Select one of the 6 Ford factory colors that were available from the chips shown below and be sure to include the name of your color choice in your e-mail to avoid shipping delays.
Please note that all colors are approximate due to differences in monitors and the way systems and browsers interpret colors. All paints are mixed from original color charts of the era.

Interior Description...
Upholstery in Mahogany and Milan Straw Vinyls to harmonize with the exterior colors. Door upper and lower panels and body quarter panels in Mahogany Grained Vinyl. Door center panels in lighter Milan Straw Vinyl. Headling in harmonizing Brown and Ivory woven plastic. Painted surfaces in rich goldtone and brown metallic. Pebbled Black rubber floor mats in passenger area. Heavy ribbed Tan linoleum in load space and on back and bottom of stowaway center seat and interior of tailgate. Black steering wheel and steering column with black turn signal and shift lever assemblies.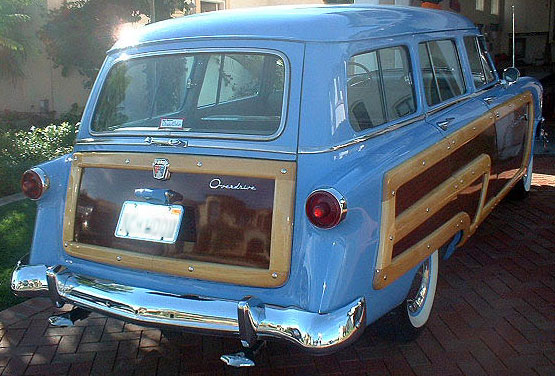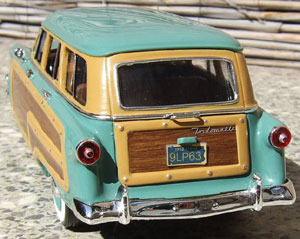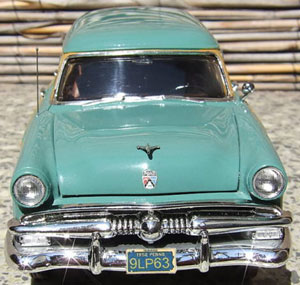 And here's the clean-up process...
First all Flash is removed using sanding sticks and various grinding tools...
then, we soak your kit components in a vat of Bleche-Wite for a minimum of 24 hours.
After the Bleche-Wite soak, the components are rinsed and placed in a tub filled with soapy water and scrubbed using a tooth brush to get into all the nooks and crannies.
Last but not least, a fresh water rinse removes the soap residue after which the parts are dried using lint free paper towels.

Payment & Shipping
U.S. Only... Shipping anywhere within the Continental U.S. via Insured Priority Mail is $9.00 U.S. We combine shipping at a flat rate of only $1.50 U.S. for each additional car ordered which includes any extra insurance required.
Send your payment to:
Jerry Koszut
341 South Osborne Street
Ainsworth, NE 69210
PayPal to: resinrealm@yahoo.com