This kit lets you create a highly detailed model of Chevrolet's most popular car for 1956 using a Revell 56 Chevrolet 2 door sedan kit for a donor. If you don't already have one, they're available at your local hobby shop or at eBay. You can also build this kit as a 150 and photos are included in the builders guide to assist you with the modifications.
This kit has already received the recommended 24 hour Bleche-Wite soak and all that you have to do is the final sanding, prime and paint the color(s) of your choice!

A color chart showing all the available colors and two-tone combinations is included and shows every two-tone variation available for 1956. The reverse side of the sheet shows all of the interior fabric swatches and detail photos. This sheet is printed on Kodak 45# gloss stock, For those who insist on fidelity to detail, an order form for our paints is included allowing you to select air brush ready acrylic lacquers of any of the solid or two tone colors that were originally used on this car.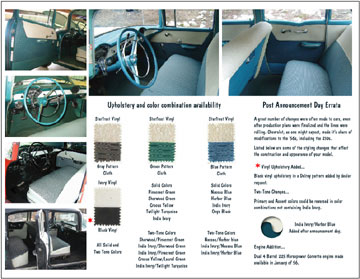 The builders guide, is filled with photos and information about the 210 and 150 4 door sedans. There's even a section about weathering for those of you who like to make dioramas.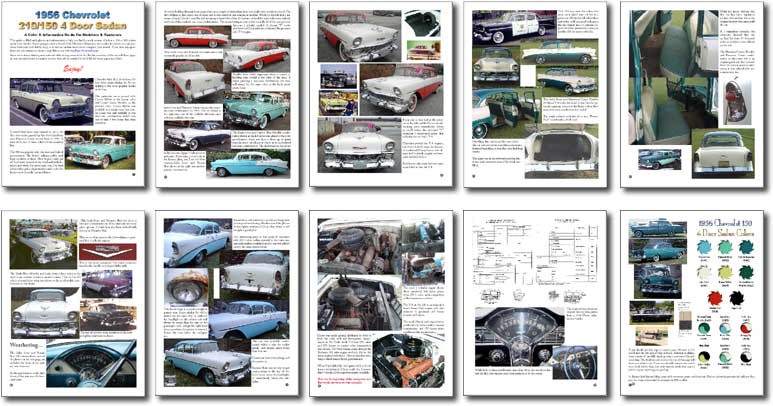 Build a 210 from the bady as is ...
...or a 150 like this if you wish
---
This stock version of our 210 sedan was built by Paul Cheshire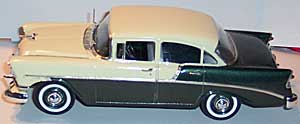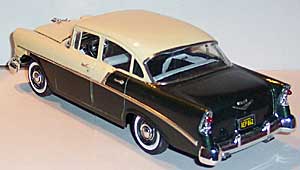 ---
The junkyard version below was done by DARRYL RAPER otherwise known as RPMTWENTYFIVE.
Larger views of this diorama can be seen in Darryl's gallery in the Master Builders section of the Resin Realm.